Into the Future with Creativity
Opening 21st century channels to acquire, appreciate, understand and create art.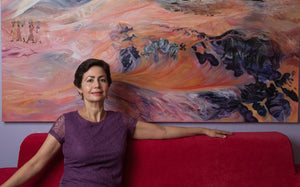 Rubina Anjum
Artists/Art Educator/Social Entrepreneur
Rubina Anjum is a visual artist based in Austin, TX. She aims to use art to communicate her awe of the beauty of the natural world. She works extensively with watercolors and oil paints. She is currently devoted to the completion of a series of large scale oil paintings rendering the surface of the Earth from space. The Planet Earth Series is inspired by images taken from the Landsat7 satellite of the US Geological Survey.